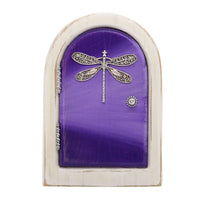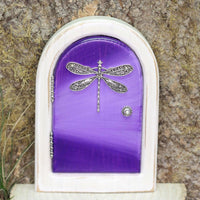 Wee Purple Dragonfly Door
The Wee Dragonfly fairy door is sure to entice the shyest fairy. It is believe that shy fairies have the ability to transform themselves into dragonflies when humans are near. This welcoming door will make them feel right at home.
Place these adorable doors in your home or garden, creating a mystical portal that allows the fae folk to travel between their realm and ours. Please remember that we, as humans, do not have the ability to open these doors, only the fairies can open them!

Outdoor or indoor use. All doors are handcrafted in Canada using only premium red cedar with zinc based, copper or bronze hardware that ages nicely over time, adding character to the door. A keyhole has been cut into the back of the door to hang from a screw or nail.
Custom made, may not be exactly as shown. 5"H x 3 1/2"W x 1"D