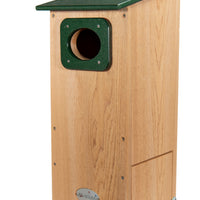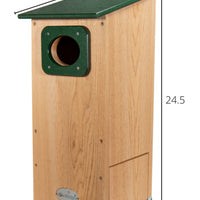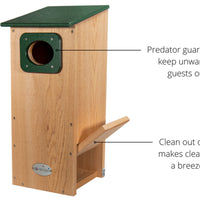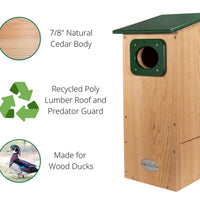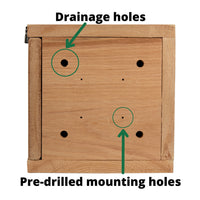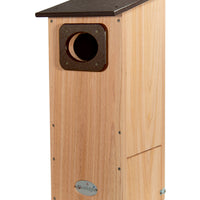 Welcome your feathered friends with this Cedar Wood Duck House! Designed to be mounted on a pole in the water or at the water's edge in wetland areas for wood ducks as well as other cavity-nesting birds like kestrels, tree swallows, and great crested flycatchers. Built in poly lumber predator guard, a 4" oval entrance hole, and a slanted overhanging poly lumber roof, makes it designed to safely and comfortably house wood ducks.

Built with one room, with 1" kerfs, or slots, inside to help ducklings climb out of the house and fly to water when they are ready. There are no grip grooves or perches outside the house in order to protect the ducks from outside predators.
A door on the side of the house allows for easy access to the interior - making clean out a simple and quick task. Comes with pre-drilled drainage holes so that the house stays cleaner and safer for the nesting ducks.
Fully assembled, ready for installation and includes two bags of pine shavings for nesting material.

The cedar and eco-friendly recycled poly lumber construction of this Wood Duck House is naturally resistant to weather and insects, therefore no external treatment should be applied to the house.
**No paint or varnish should be applied to this house, internally or externally, as it could be poisonous to the ducks.**
Overall Dimensions: 24.5" H x 12" W x 12.25" D
Hole Diameter: 4" x 3" oval shape

Made in USA