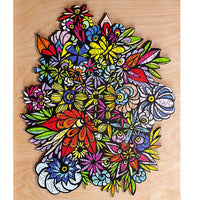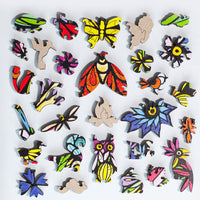 This puzzle introduces a new puzzle designer to the StumpCraft fold: Siri Olson.

Within the colourful wildflowers, Siri has uncovered (and hidden) several of the fauna and flora you can find exploring the 19km shoreline of Lac la Hache (BC), where artist Lori Anne McKague found inspiration for this brightly saturated & zentangle potpourri of wildflowers.
Box packaged. Made in Canada.
Artist: Lori Anne McKague
Puzzle Designer: Siri Olson, Lori Anne McKague, Jasen Robillard
Dimensions: 23 cm x 30 cm
Piece Count: 200
Difficulty: 3 out of 5