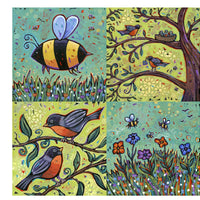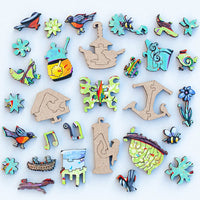 The air is a buzz with the flutter of wings and the tweet sounds of nature. Birds & Bees takes flight as a duo of spring season diptychs offered as a "mixer" of four mini puzzles in our small box format. 

The doubling of straight edges in similar tones will keep you guessing while whimsies and locks will focus on all things from a birds' and bees' eye view: flowers, honeycomb, beehives, bird houses & feeders. A great puzzle to tackle on your own, or with your closest puzzle-solving partner.
Box packaged. Made in Canada.

Artist: Pam Weber
Puzzle Designer: Jasen Robillard
Dimensions: 27.5 cm x 27.5 cm
Piece Count: 284
Difficulty: 3 out of 5